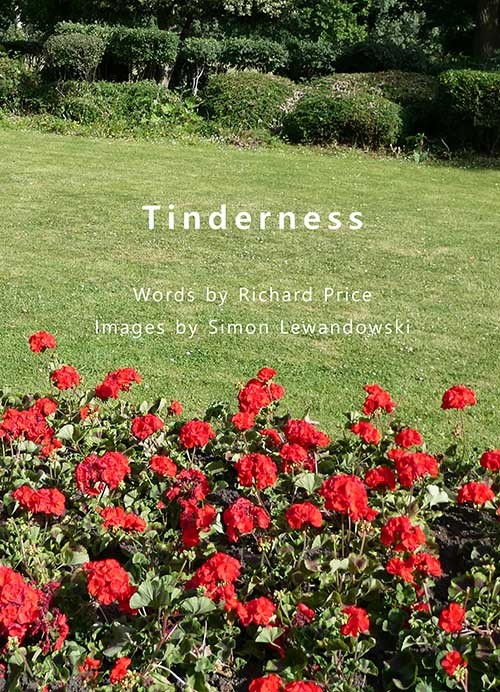 TINDERNESS
A new collection by Richard Price
with images by Simon Lewandowski.
This new artist's book evokes both the 'unsettlings' and the unironic joys of dating apps and those who use them. Price's poems detail lives -- and hopes -- with a keen observational eye. His texts are wry, sympathetic, and quizzical, often all at the same time. Lewandowski's mesmeric photo-essay tells the parallel story of meet-up locations, roadside kiosks, suburban homes, mid-rise flats -- depicting the mystery of encounter. You sense that the lovers in the poems have only just left..
For the formal minded (others... Look Away Now), these poems use the 'stepper' and 'dreeper' forms Price has been working with for the last four or five years. These are a mixture of specific syllabic constraints and free-verse improvisation: a kind of renewed jazz in poetry. Lewandowski's photographs are in rich colour and his camera angles and contemporary content show his eye for the absurd is undimmed. This is a perfect collaboration between a poet and artist who have worked with each other on projects for many years: it's unusual to find text and image so much in sympathy with each other. Tinderness is, yes, a tender document of our times.
Wild Pansy Press 2022
ISBN 978-1-900687-83-6
Paperback, 205x148mm, 36pages.


* * * * * * * * * * * * * * * * * * * * * * *